Carrboro is THE small town with everything! Well, almost everything.... we have cafes, restaurants, parks, grocery stores, a radio station.. Almost everything you can think of and need to live comfortably in the 21st Century. What we don't have are movie theaters(but we have Vis-Art Videos), a massage parlor(but Chapel Hill has one we can use), a hotel and a newspaper.
I felt it was my civic duty to make Carrboro a more complete town and thus I have decided to launch it's first newspaper- The Carrboro News. Thanks to news organizations like Fox News, the job of reporting news has become much less mundane. To run a news organization you no longer have to worry about such time-consuming tasks as confirming facts and sources, being objective and having to worry about accuracy!
Historic Photos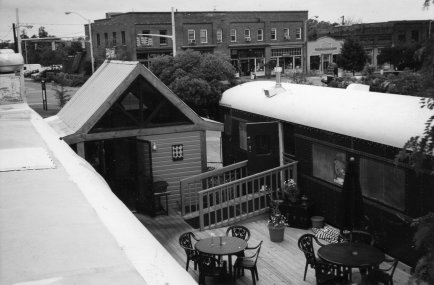 The Original Trains Restaurant(circa 1905).
A Restaurant years ahead of their time, they were the first to use treated lumber and plastic tables and chairs.
(The Carrboro News Historic Photo Archives)
---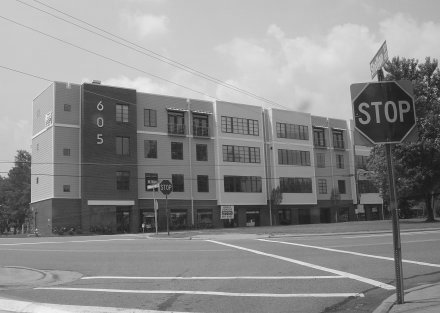 605 Main Street(circa 1923)
Robert Main had the vision of building the tallest building in Carrboro, creating a masterpiece twice as tall as the reigning queen, "The Carr Mill Mall.
(The Carrboro News Historic Photo Archives)
The direction that news gathering has moved is a blessing to every lazy, unmotivated, ADD(Attention Deficit Disorder), fiction writer. And so I can finally engage in my civic duty, while offering Carrboro it's first and BEST(Self-promotion/Lack of modesty is another trait that news organizations have picked up lately)local newspaper, but best of all, I won't have to waste a lot of my time doing it! A dream come true!
We will be offering News Stories about what's going on around Carborro(and sometimes the World as we recognize that Carrboro is a barameter of International Affairs and influences the decisions made by many world leaders!), as well as awards so that we can recognize all those little things(including people) around us that make Carrboro such a ummm.... well, let's just say, unique Community. We will also be happy to accept articles by guest "reporters" if you would like to contribute.