CVS, Aldermen and Community Agree CVS Development Plans!
The dispute over how to incorporate the corporate image of drug store giant CVS with the small town image of little Carrboro has been a long drawn out process of drawing out plan after after plan. Too big, too modern, too imposing, too ugly, too much, too bad.... Nothing seemed to fit into the northwest corner lot of Weaver St. and N . Greensboro that would leave Carrboro's image in tact.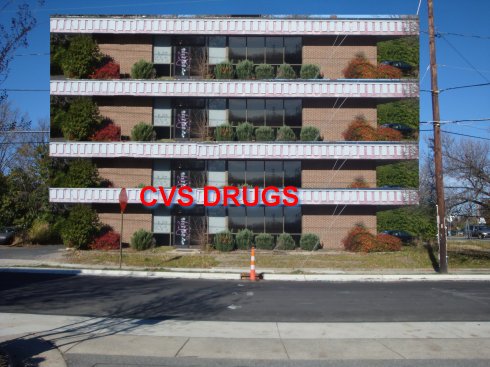 "Ever since the office building at 605 West Main was built, integration and esthetics have taken a new meaning in Carrboro." Alderman Dan Coleman told The Carrboro News. "That building is so integrated there are people in the community who drive past it daily and still don't know it's there! That was the effect we were trying to get with the CVS building... small town, quaint.... and unnoticed! I am quite pleased with the result", he added with a huge grin on his face, not anything like the Cheshire Cat.
There were two plans presented to the town... both were "winners" and caught the town off guard. "We weren't expecting them to present something so sensitive to the image we are tying to present here!", Mayor Mark Chilton told The Carrboro News. "But they capture the essence of Carrboro. I couldn't be a happier mayor! We were quite unhappy with them last month and asked them to present something that would make us proud to have in our midst. We wanted something quaint, yet expansive... and I think they hit the mark on both counts!"
The architects of Carrboro also have been supportive of the new design and to the man you can hear of twinge of jealousy in their voices as they complement CVS on a plan so simple, yet none of them were able to come up with the ideas themselves.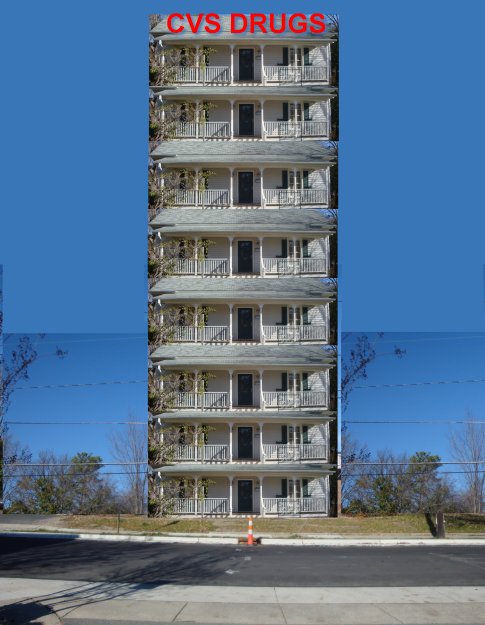 "The plan is so simple. There is a twinge of jealousy in me that I didn't think of it first", said Gyles Blunden, the mastermind behind Pacifica and the other development that is escaping our memory at the time this column went to press.
"I love mill houses... they are Carrboro.", exclaimed James Morgan. "The concept of stacking eight of them on top of each other is pure genius! I'm jealous that I didn't come up with the idea first"
"What an incredible concept!", Jack Haggerty chimed in, but leaned forward and whispered in a hushed voice,"but don't tell anyone that I said that!". We assured him that we wouldn't...
The plan is an incredible microcosm of the Carrboro 2020 Plan. Vertical space that leaves the greenery in place and offers plenty of parking.
"A building that size requires 18 parking spaces but CVS went the extra mile and will be putting in 19 spaces. We are looking forward to having CVS rejoin our community after they move from across the street." said builder James Arndt. "They are the thoughtful neighbors that we wish would build next to OUR residence! I'm hoping that within the next few years they decide to move down to the old Riggins Hardware parking lot. I really believe in the concept of a drug store in every neighborhood. You can never have too many drugs!"
With the success of the new mill house concept that CVS has introduced, the Carrboro Aldermen are going to make a concerted effort to bring in more businesses to increase the tax base that they always talk about never increasing. Walmart, Target, Costco, Sam's Club and Kmart are now being welcomed with open arms.
There's no money in being the Paris of the Piedmont, but a strip mall of skyscrappers is the ticket to lower everyone's taxes while increasing revenue to the town so we can better protect our small town image.