The Night Climbers of Weaver Street!
Go out to Weaver Street any time of night, once the sun has set and darkness has blanketed the great commons grounds and if you look closely and shine a flashlight in the trees you will see the climbing children of Weaver Street, climbing the trees to their hearts delight. This particular night, ever single tree was full of children, with The Carrboro News Kid Spotters able to count 35 climbing children in the The Great Oak tree on the eastern edge of the commons and able to identify by name about 15 of the little climbers..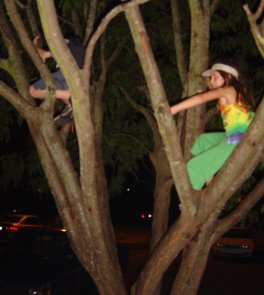 When asked "why the night tree climbing?" one climber explained, "I used to love climbing in the day time, but after you reach a certain stage you need a little more of a challenge. In the daylight, you can see every branch and leaf, it's like reading book for the seeing impaired. At night it's more of a challenge because you can't really see as well which makes climbing much trickier!"
Another one added, "The dismount from the tree at night is so much harder and more of a challenge. In the day time there is a Carrboro police officer who stands at the bottom of the tree and helps us get down. The best part of the climb is the free fall dismount!"
A third one added, "We are actually all part of an adventure club and like to take risks. We used to love to dive into the pond, but once they filled it up with gravel and made only the little bucket at the end, it became too much of a challenge. Too many of our members were missing the bucket and bumping their heads."
When asked about the kids night adventure club, the Weaver Street Market employee seemed a bit puzzled. "I've known about the day activities, but what happens out here a night is news to me. It costs a lot of money to hire a police officer to help with the dismounts, but luckily they Town of Carrboro is footing most of the bill. We're thinking of enlarging the pond and installing a diving board life guard stand and using volunteer to be lifeguards." He then drew me closer and whispered, "Actually we're working on a plan with Carr Mill Management to turn the whole commons into a pool. Once we do that, then not-Dancing Bruce's only option will be to prance around in a Speedo. From our first meetings, it looks like Nathan is VERY EXCITED about that idea!"
As I walked away, out of the corner of my eye I saw a night climber do a double reverse flip dismount with a perfect landing and I could only think to myself, "Thank God for Weaver Street and their trees! They've found an innovative and safe way to keep our children off the streets!"