Historic Day in Carrboro-Dancing Bruce Protest
The Carrboro News recieves first letter to The Editor
Today is a historic Day in Carrboro. For the first time since Riki Hermanson nailed the Grand Dragon with an egg during the KKK march, the town is coming together to unite against a common enemy- The Grand Dragon of Carr Mill Mall. After Ruffin, the manager/owner of Weaver Street Market, the town aldermen and mayor and State Representative Ellie Kinard all failed to convince Nathan to come to his senses, it has been decided to send in the really heavy artillary. The Dancing Carborrites. On Aug 23 at 5:30pm they will meet on the Weaver Street Commons to begin a protest which will include 3 hours of non-stop dancing.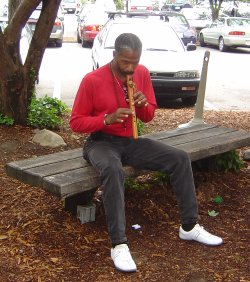 Dancing Bruce takes up the recorder since being banned from Dancing at Weaver Street.
They will begin with the Electric Glide for 40 minutes, ease into a twenty minute Swing, deteriorate to a few minutes of Slam Dancin' and then an hour of Ballroom Dancing as they work up to the grand finale, a Musical Chairs circle dance with Bruce dancing in the middle. The circle will get smaller and smaller as a chair is removed and the crowd or swaying bodies surrounding the circle gets larger and larger. The last person sitting will then, stand up and dance a Tango with Bruce, after which the protest will end.
Yes, we at The Carrboro News are amazed that it has come down to this. We predicted that it would have been settled much sooner, but we underestimated the stick-to-it-ness of the Carr Mill Management. Staying the course seems to the mantra of the day at all levels, no matter how self-destructive the course is.
Also on this historic day, The Carrboro News recieved it's first letter to the editor, the last milestone we needed to crown us as The People's Newpaper. It only took three weeks, which is a minor miracle with the backseat position news has taken to MTV, soaps, reality shows and every other mindless form of leisure time activity that has taken over the minds of our good citizens of Carrboro. Yes, we actually have a couple of other ones, but they weren't really real. They were just emails to the rest of the Auto Logic softball team(Mitch for Mayor's team), that we put in to legitimize our letters to the editor section.
Thanks Carrboro.....and keep those letters coming.