Weaver Street Market offers Outdoor Office Space
Just when you think you've seen it all, another innovative move has helped solidify Weaver Street Market's position as the leader of the Big Three(Earthfare, Whole Foods and Weaver Street Market). What is this innovation? Adding revenue to it's owners and offering office space to those people who spend most of their day(or even some of their day) working there.
The rent is based on the table type, size, condition of the table and location and there is a little room of negotiation with the management. Some renters have a complimentary cup of coffee and a refill a day added to their lease, while other leases contain clauses that allow the office space to be sublet.
The Carrboro News took a stroll down to Weaver Street one day to investigate how the program was working.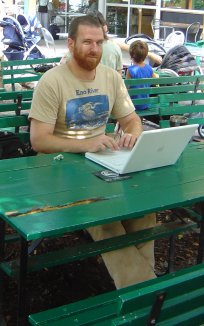 Donovan has chosen to lease one of the wooden 4-seater wooden bench models, located under the shade of the tree(and in the downward trajectory of debris dropped by the squirrels above). Being a puppeteer(artist), money was a considerable factor in Donovan's decision and he chose the office space with the rotten board in exchange for a reduction on his monthly rent. Donovan probably could get by on a smaller model, but he likes to have more room to spread out and when he brings one of his 16 foot puppets to the office, he needs the extra space.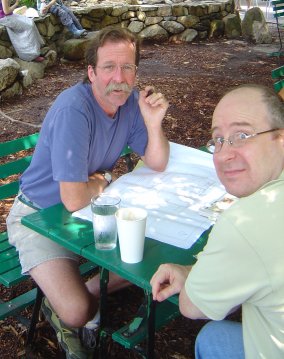 James Cameron is a builder and likes to meet his clients in town instead of making them drive way out of the way to Pittsboro, so a Weaver Street Market office was the perfect solution for him. With the rise in gas prices James commute from Pittsboro has cut into his office budget so he opted for a 2-seater wooden bench model right next to the road. The carbon monoxide and noise levels are a bit high at that location, but it helps to keep the meetings short.(Did we mention that James is on the hourly lease program?).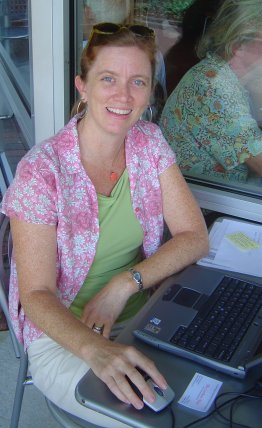 Kirsten has opted for one of the 3-seater metal table next to the window(comes in a 4-seater away from the window also). This is prime real estate as you can work in all weather, are close to the coffee machines and have electrical outlets within laptop cord distance of your office. This is one of the higher priced spaces and becomes even higher when you add in the liability insurance to cover any accidents caused by pedestrians tripping over your power cord. (The insurance is mandatory and can be purchased at the customer service desk where Allstates Bill Marney has set up his little office space.)
Right now about 45% of the available office space is leased and we expect the rest of it to be leased once we release this edition of The Carrboro News. There are a few pondside tables available and one pondview space(both wooden bench models) as well as The Pecans(located under the pecan tree), but they are not selling quickly as it's pecan season and the chances of having a half-chewed pecan dropped on your head or in your cup of coffee is increasing on a daily basis. These offices are traditionally leased after Labor Day once the pecan season is over.
As we work closely with Weaver Street Market, if you mention that you read this article they will add a cup of coffee and a Danish a day to your lease. There is also indoor space available, but most people want to lease that after Thanksgiving, so if you're planning on getting inside space, you'd better reserve it early!