Carborro's New Rent-a-Cop-Car Policy
Last week the Carrboro Police Department, in an attempt to supplement it's budget as well as open up parking spaces in the cramped downtown police parking lot has inaugurated an innovative new program, building upon the already successful Rent-a-Cop program. The Rent-a-Cop-Car program is open to all Carrboro residents with a driver's license with the exception of felons and Bruce Thomas. As you know, Bruce has had a large target painted on his back, since causing all that trouble at Weaver Street.
"We have great faith in the citizens of Carrboro," explained an unnamed officer, "but our greatest fear is that Bruce will rent one of our motor vehicles, park it in the middle of a main intersection, turn on the lights and siren and start dancing. We'd rather avoid that situation if at all possible".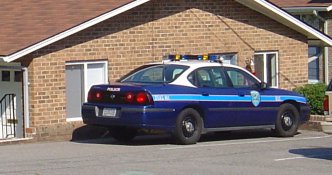 The purpose of the program is many fold:
1. Free up space at the Carrboro Police parking lot.
2. Raise revenue for the police department
3. Protect individual citizens from thieves, burglars and violent ex-spouses
4. Slow down traffic in neighborhoods
5. Aid in recruiting new police to the force
The Carrboro News rented one of the Police Cruisers for a test run, choosing the Deluxe Plan which allows you to drive the police car and have complete access to all controls(including the lights, siren and radio) inside the vehicle. You can respond to calls(but must only be the back up), and under no circumstances may you give out tickets, citations or pursuit a traffic violator with lights and sirens on. But you are allowed to follow cars very closely to see if they respond with any suspicious actions which you can then report to the proper authorities. Although the minimum rental is usually 24 hours, we were strapped for time so we only took it for a two hour spin.
Have you ever sat behind the wheel of a police car? We did, and immediately, we developed an urge to give out tickets. The power we felt as we hit the gas pedal, no matter how overwhelming, was nothing compared to the power in our heads we developed as we watched the occupants of each car we saw shoot a quick glimpse of us out of the corner of their eye with a look of fear. Once you've seen the look of fear from inside a police car you know how guilty you look every time you pass a police care in your own vehicle. That was truly an eye opener for us.
We also drove down the street to a house where a young 8 year old boy lived who had been harassing my daughter. When the boy came out of the house, we called him to the car and give him a stern warning that if he didn't leave the girl down the road alone, he would end up in prison for twenty years. We are pretty confident that we solved that problem.
As you drive around town you will see these rentals in different locations. We've spotted the rentals at OWASA, Fitch Lumber and the Harris Teeter parking lot as well as at a number of private residences.
All in all, The Carrboro News found the Carrboro Police Rent-a-Car program very effective, enlightening and fun. It certainly appears to be a real crime cutter downer and are looking forward to the new program that will be launched next year which will benefit everyone. The Carrboro Police Department Franchise Program will franchise out their cars, so that for a yearly fee of only $300 you can paint your car like a Carrboro Police cruiser(complete with lights and sirens) which saves you money and the Police Dept. will not be responsible for any maintenance.
Once this program reaches its 100% implementation phase and there is a police cruiser in every driveway and every parking lot, we fully expect crime to go down to 0 and the Town of Carrboro can begin laying off it's police officers and employees. We estimate that the town will take in about $100,000 in Police Car Franchise Revenue with no expenses(The Town Manager can assign an accountant to keep accounts up to date).