The Backside of 605 Main Street
With all the hoopla surrounding the unveiling of the bohemoth beauty at 605 East Main Street- the five separate building look..... the attached storage unit on the east end and the elevator shaft, but we neglected to mention the back.
As The Carrboro News was bicycling down Poplar, it happened to glass over to the right and what did it see? The back of 605 Main Street.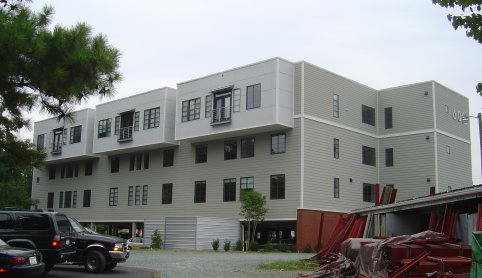 From the first glance, it became evident that all of the architect's creative skills and appreciation for beauty were depleted on the front side. How can we best describe the back side? A drab gray(two tone, none the less), boxy looking apartment building- very similar to the thousands of Eastern European apartment buildings revealed after the fall of The Iron Curtain. We can only assume that is where the architect got his idea from- and injected a little touch of liberal Carrboro optimism.
As can see, the architect went with the multi-building look on the back just as he had on the front, with a little twist- instead of the other building being vertically built like a row of apartment buildings, he did something that will be recognized as one of the architectural innovations of the 20th century- the secondary building is horizontal. That was an incredibly imaginative move, that we've never seen before. Adding to the penthouse suites, suicide balcony doors that lead nowhere but down and we have a piece of work that has a very good chance of sweeping the Architectural Awards for The Bohemoth Building category(it has won the front and is in a strong position to win the back also). A clean sweep of this award has never been imagined until now!
Other innovative touches to the building is the way the suicide balconies were built to effectively block out all sunlight to the second floor- a feat usually only achieved if a larger building is built next door. The aluminum box on the bottom floor is another innovation that effectively blocks the view of some of the cars in the parking lot as well as breaks any clean lines of architecture that may have been inadvertently designed into the structure.
The only question we have is, why did the architect stop at three stories?..... he was on a such a roll!
All in all it's a wonderful addition to the quaint little village of Carrboro and I'm sure that the people who live in the houses behind the photographer would agree with me.